Guidelines
General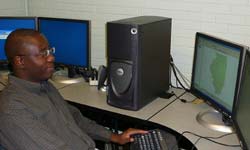 Users should familiarize themselves with the computing policies of Southern Illinois University Carbondale.
For security purposes please do not use unapproved software, launch unapproved executables etc. Do not install Internet add-ins or approve outside applications or downloads even if prompted by the browser or Internet site.
Do not copy, electronically transfer, replicate, or in any way remove software from the laboratory or access software from outside of the laboratory.
The system administrator, on a continuing basis, will evaluate Internet access from the lab. Be mindful of malicious Internet content and virus risks when browsing.
Please scan all removable disks for viruses before use.
The use of tobacco products is prohibited in the building.
Food and beverages are prohibited in the laboratory.
For security purposes the use of e-mail on the workstations is not allowed.
Use of chat rooms, Instant Messenger, ICQ, Microsoft Messenger Service and other messenger or chat related services are not allowed.
Please restrict any Internet usage to research related information.
The resources of the laboratory are finite and at times will be in demand. Please restrict your use to 'appropriate' activities.
Please clean up your workspace when finished.
The system administrator may suspend any person from using the facilities provided in the laboratory, if, in his/her opinion, that person has violated any of the before mentioned guidelines, or:
Was responsible for the theft of, or willful damage to, any of the computing facilities, software, hardware, peripherals, etc.;
Was in possession of confidential information obtained improperly;
Was responsible for the willful destruction of information;
Was responsible for the deliberate interruption of normal services provided by the laboratory;
Removed, copied, disabled or destroyed all or part of any disk or software or hardware product in the lab;
Knowingly allowed someone else to remove, copy, disable or destroy any software or hardware product in the lab;
Is caught using the lab facilities without appropriate permission.
The system administrator will monitor sessions and workstations remotely.
Please report any problems to the lab mamager immediately.
Special Arrangements
If special software or hardware arrangements are needed for the lab, requests should be made well in advance of anticipated usage. The system administrator will only install hardware or software for which there is a demonstrated need and a proper and valid license. 'Demo' or 'evaluation' copies can not be installed. Once approved, software/hardware installation requires a minimum lead-time of two weeks.
Printing
Ask the lab manager to help you set up a printer once your account is established. Please ask for permission before accessing or using the HP Color Laser Jet or the HP Design Jet printers. These devices are expensive to maintain and should not be used for general printing jobs.
Virus Scanning
Please scan all removable disks for viruses before use. Viruses can totally disable and in some cases destroy hardware components of lab computers. Do not attempt to disable the virus scanning software. The small trade off in system performance is well worth it.
To scan a removable disk (floppy, zip, cd) insert the disk in the drive, right click the 'Start' button in the lower left of the screen, select'Scan for Viruses' from the popup menu. This will start the virus scan software. Select 'Browse' and select the disk you wish to scan. If a virus is detected contact the lab manager then clean or delete the file.
Scanners
The scanners are for scanning paper items only (pictures, graphs, journals, etc.). Do not place rocks or other objects on the scanners! They will scratch the glass and ruin the scanners. If you have an object that needs to be scanned, please contact the lab manager.
Your Storage Space
Once you logon click the 'My Computer' icon. You will see a drive labeled '(your user name) on enrepo12X:'. This is your storage space on the server. It is secure so no other users can access it. All files should be stored either in this space or on a removable drive such as a Zip, Floppy, CD-R or CD-RW. Please do not attempt to store files on the local machine unless approved by the lab manager.
The system administrator will monitor file storage and storage use. Because of routine file maintenance, any files not stored in your directory may be deleted. You are allocated a quota for storage space. You will automatically receive a warning when you approach your quota. Your quota cannot be exceeded. All files on the server are stored at your own risk. Important files should be backed up to a Zip or CD.